Grennan Chiropractic Clinics
Serving Irving & Mesquite, Texas
Grennan Chiropractic is one of the most trusted and well-respected clinics in the Dallas, TX metroplex with over 20 years of clinical experience. We are currently serving patients in 2 locations here in North Texas. We have an Irving/Las Colinas chiropractic clinic as well as a Mesquite chiropractic clinic. Our continuing growth is in part due to patient referrals as well as referrals from many area doctors who have come to value our services.
At Grennan Chiropractic, you will be treated by a member of our professional staff who will assist you through all phases of recovery and rehabilitation to help maximize your functional status and overall sense of well being. Utilizing a variety of adjusting techniques, in addition to therapies specified for your condition, our goal is to achieve optimum, balanced wellness for you. Our doctors specialize in many musculoskeletal conditions, nutritional counseling, and auto accidents.
You do not have to suffer from pain, stiffness, poor sleep, or irritability that may prevent you from participating in normal activities. Grennan Chiropractic is here to assist in helping you optimize your physical health!
Dr. Carol Grennan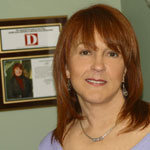 Dr. Grennan was inspired to become a chiropractor after personally experiencing the dramatic effectiveness that chiropractic treatment can offer to each of us. She is a graduate of Parker College of Chiropractic in Dallas, Texas, and opened her clinic almost 20 years ago. She has been successfully treating patients in the Metroplex area ever since. Her extensive experience and clinical success is highly regarded and the clinic receives referrals from a broad spectrum of healthcare professionals.
Dr. Grennan has had a life long interest in nutrition and food. She is a board certified clinical nutritionist with extensive continuing education over the last 15 years in this field. She also undertook a professional chef training program at the Natural Gourmet Cookery in New York City. Her experience in this area attracts a large number of patients seeking nutritional counseling, dietary changes, and weight management.